Is there anything more beautiful than an "Autumn wedding"? well, maybe just weddings in general…..but I am just a tad biased towards Autumn. I was married in September and now my oldest daughter is doing the same! September 26th to be exact. Her first wedding was a fairytale….traditional, planned for a very long time and with every detail adhered to. Sadly, even fairytales come to an end. Not ever thinking she would fall in love again, a chance meeting has brought us to a new chapter in our family saga and his name is Joey!
So what kind of wedding does a transplanted Jersey Girl with an eleven year old son now living in the country plan? …
…………..A country / picnic style one of course!……………………

I promise to share all the details right up to the "I Do's" and the pictures……


But right now I thought I might share some thoughts on what we are planning for this beautiful Autumn wedding…..


Tammy & Joey want a laid back, fun filled day with family and friends….so that's exactly what they are going to get…
We have a huge tent on hold just in case Mother Nature doesn't play well that day, but for the most part we will be under a huge pavilion, the property where it will be held has an old Barn that has been converted into a huge fully-functioning kitchen and the old Church is now a gathering hall so we will have plenty of space to congregate.


Joey's two sons will be his Best Men and my grandson will walk the bride down the grassy aisle…


The colors will be all Autumn flavored. Gold, Russet, Crimson and Ecru….


The tables will be simple, with Mason Jars with candles and bouquets of Autumn Mums, runners made from Burlap. My husband is making the cake-stands from old Birch trees from our property.


We are thinking of adding several pieces for everyone to sign and then polyurethane them so they can use them as platters for all those "Holiday Dinners" they will be hosting!

The next month is going to be super busy and fun-filled! I'm so looking forward to it……
Country Hugs,

Photo credits:
http://www.thesweetestoccasion.com
http://weddingslooks.com
http://www.weddingchicks.com
http://rusticweddingchic.com
http://www.elegantweddinginvites.com
http://hodgepodgecraft.com
http://www.deerpearlflowers.com
Linking up at: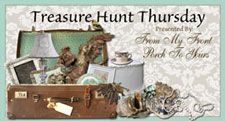 < img src="https://i730.photobucket.com/albums/ww307/LeslieFLambert/personal514button_zps3c21ca18.jpg" width="200px" alt="Lamberts Lately">< /a>