Tomorrow is the 141st. "Run for the Roses", or as most know it as the Kentucky Derby…."the most exciting two minutes in sports"…. the Kentucky Derby is a 1.25 mile race for three-year-old thoroughbred horses. It is the first leg of the American Triple Crown and is followed by the Preakness Stakes, then the Belmont Stakes. Unlike the Preakness and Belmont Stakes, which took hiatuses in 1891-1893 and 1911-1912, respectively, the Kentucky Derby has been run every consecutive year since 1875. A horse must win all three races to win the Triple Crown.  The Derby is the crowning event after a two-week event known as the "Kentucky Derby Festival".
And The Mint Julep is the official drink!
Have any of you ever attended? well, this is #1 on my Bucket List.  I love everything about it, the adrenalin, the horses and especially the Hats! If you can't be there at Churchill Downs on this fabulous day, why not bring the race to your home! This is a great venue to have a few friends over for a "Kentucky Derby Brunch", and watch the race together and celebrate this wonderful American tradition – Hats a must!
T o heighten the excitement, we bring the big screen TV outside, set up a six foot long table, with bouquets of red roses, horse shoes (For Luck) and a list of the horses running along with their stats and the favorite to win. I use a crisp white under cloth to the floor and use two of my plaid wool throws on top. a few plastic horses that you can pick up from Hobby Lobby or Michaels, spray with adhesive and cover with fake sheets of moss. Moss covered balls add to the centerpiece. I don't do a sit-down for this, its buffet and pillows are on all the chairs on the deck….I start the buffet before the race so we don't miss a moment of the race…usually by time it begins we've had at least two Mint Julep's and have placed our bets! the money collected goes to a charity that we chose.   The winner gets bragging rights until next year!
Here are some idea's including table settings and easy menu:
Isn't this gorgeous?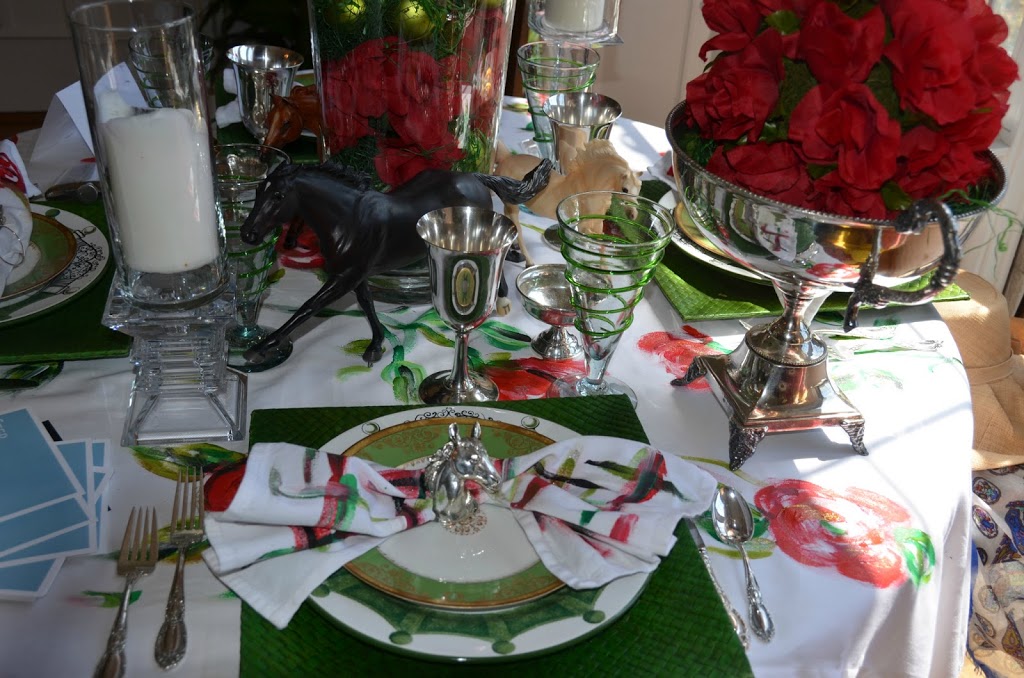 …………..So have I gotten you motivated? Great! Let's eat………
This delicious Kentucky bourbon chocolate walnut pie is traditionally served at the annual Kentucky Derby Horse race. This pie recipe is similar to the Melrose Inn's famous "Derby Pie," which has been served at the race for over 50 years.
Kentucky Bourbon Chocolate Walnut Pie
1/2 cup flour
1 cup sugar
2 eggs, beaten
1/2 cup melted butter
2 tablespoons Kentucky bourbon
1 cup chopped walnuts
1 1/4 cup semi-sweet chocolate chips
1 teaspoon vanilla extract
pinch of salt
1 ready-made piecrust
Preheat oven to 350 degrees F.
Combine flour and sugar in a mixing bowl. Add the eggs and butter; mix to combine. Stir in the bourbon, walnuts, chocolate chips, vanilla, and salt. Pour the mixture into the unbaked piecrust. Bake for 40 to 45 minutes. Let cool before slicing.
* Note: If you ever include a similar recipe in a cookbook, you can't legally call it a "Derby Pie" recipe. The name "Derby Pie" is trademarked, and the owners of the name are very aggressive protecting the name "Derby Pie."
The Old Forester Mint Julep
 2 Cups sugar
2 Cups water
Sprigs of fresh mint
Crushed ice
Old Forester Kentucky Bourbon
Silver Julep Cups
Make a simple syrup by boiling sugar and water together for five minutes. Cool and place in a covered container with six or eight sprigs of fresh mint, then refrigerate overnight. Make one julep at a time by filling a julep cup with crushed ice, adding one tablespoon mint syrup and two ounces of Old Forester Kentucky Bourbon. Stir rapidly with a spoon to frost the outside of the cup. Garnish with a sprig of fresh mint.
Derby Bourbon Shrimp
1 pound frozen, raw shrimp, peeled and deveined (45-50 count), tails removed
2 teaspoon extra virgin olive oil 
4 teaspoons Cajun seasoning
4 teaspoons Woodford Reserve bourbon
Salt
Pepper
1 English (seedless) cucumber, sliced into ¼-inch rounds
½ cup sour cream
Bourbon smoked paprika
Defrost the shrimp according to the directions on the package.  In a small bowl, combine the shrimp, olive oil, Cajun seasoning and bourbon.  Stir to combine. Sauté in a hot pan until cooked through and just pink and opaque in color, approximately 3 – 4 minutes.  Season to taste with salt and pepper.  Place a dollop of sour cream on a slice of cucumber and top with a cooked shrimp.  Repeat with the remaining cucumber, shrimp and sour cream.  Garnish with a dusting of paprika.  Serves 10 – 12
Crab Cakes, Grain mustard rémoulade 
For the crab cakes
1 whole egg

¼ cup heavy cream

½ Granny Smith apple (or similar), peeled, finely chopped

1 teaspoon fresh chives, finely chopped

1 stalk celery, finely chopped

1 clove fresh garlic, minced

¼ cup yellow onion, finely chopped 

2 tablespoons butter

2 lemons, zested and juiced

1 tablespoon Worcestershire sauce

1 tablespoon Tabasco sauce

2 tablespoons mayonnaise

2 tablespoons Dijon mustard

1 tablespoon Old Bay seasoning (I love this stuff!)

2 tablespoons fresh parsley, finely chopped

2 pounds jumbo lump crab, picked clean

2 cups Ritz crackers, crumbled 

2 cups panko bread crumbs 

¼ cup oil or clarified butter, for frying
For the rémoulade
¼ cup buttermilk

1 cup mayonnaise

1 tablespoon whole grain mustard

1 lemon, juiced

1 tablespoon capers, finely chopped

1 tablespoon shallot, finely chopped

2 tablespoons celery root, grated

1 teaspoon Tabasco sauce

¼ teaspoon cayenne powder

Kosher salt and freshly ground black pepper, to taste

1 tablespoon fresh parsley, finely chopped
Prepare the crab cake mixture: In a large bowl, mix all the ingredients together (except the crab, the crackers, and the panko) and combine well. Add the crab and combine gently to incorporate.
In a food processor, pulse the Ritz crackers and the bread crumbs until they have the consistency of graham cracker crumbs. Reserve 2 cups for coating the crab cakes before cooking.
Incorporate the bread-crumb mixture into the crab. When you do this, be careful not to break up the lump crabmeat too much. (You really want to have that texture in the cakes.) Now you're ready to mold your cakes. Use a 2- to 3-inch diameter cookie cutter or ring mold that is about 2 inches tall. Fill the molds with the crab mix and pack them nice and tight. The tighter you pack, the better your cakes will hold up when you cook them. Store all of your molded cakes on a sheet tray in the fridge until you're ready to cook them.
Make the rémoulade: In a medium bowl, combine all the ingredients (except the salt, pepper, and parsley) and mix well. Season with salt and pepper and finish with the parsley. Taste and adjust seasoning if necessary. Refrigerate until ready to serve.
Preheat oven to 375ºF.
Cook the crab cakes: Heat a large nonstick pan on high heat and add ¼ cup of clarified butter or cooking oil. Remove the crab cakes from the fridge and coat them in the 2 cups of the cracker mixture. Sear them in the pan until they're golden brown on one side, then flip them over and pop them into the oven (in the pan) for about 6 minutes. (Keeping them in the pan while they're in the oven enables the bottoms to get nice and brown while they heat through.) Test for doneness by poking them with a cake tester or metal skewer and testing the temperature on the inside of your wrist. If it's hot, you're good to go!
Gougères
Ingredients
Makes about 50
6 tablespoons (¾ stick) unsalted butter, cut into pieces
¾ teaspoon kosher salt
Pinch of nutmeg
1¼ cups all-purpose flour
4 large eggs
6 ounces (1½ cups) grated Comté cheese or Gruyère
½ teaspoon freshly ground black pepper
1 large egg yolk
Preparation

 Preheat oven to 400°. Bring butter, salt, nutmeg, and 1 cup water to a boil in a medium saucepan, stirring until butter is melted. Remove from heat, add flour, and stir to combine.
Cook mixture over medium heat, stirring vigorously with a wooden spoon, until mixture pulls away from sides of pan and forms a ball, about 2 minutes. Continue to cook, stirring vigorously, until a dry film forms on bottom and sides of pan and dough is no longer sticky, about 2 minutes longer. Remove pan from heat and let dough cool slightly, about 2 minutes. Mix in whole eggs one at a time, incorporating fully between additions. Mix in cheese and pepper.
Scrape dough into a piping bag fitted with a ½" round tip (alternatively, use a plastic bag with a ½" opening cut diagonally from 1 corner). Pipe 1" rounds about 2" apart onto 2 parchment-lined baking sheets. Whisk egg yolk and 1 tsp. water in a small bowl; brush rounds with egg wash. Bake gougères until puffed and golden and dry in the center (they should sound hollow when tapped), 20–25 minutes.
Now who to bet on?? I'm not of the gambling arena so I really don't know anything about odds and things of that nature so I'm going with an underdog! War Story # 16 – odds 50-1….my kinda horse!
Happy Derby Day!
Country Hugs,
Credits:
romancingthehomeltd.blogspot.com
ginasitaliankitchen.blogspot.com
Linking up at:
http://betweennapsontheporch.net/