I think I've been giving "Food Gifts & Baskets" for a thousand years! Well, probably since the early eighty's…..
When we purchased our first home on the Jersey shore, for the first time we were living in a "Child-Friendly development.  The first day we moved in my neighbor, Joanne, came knocking with the most beautiful basket I had ever seen.  It was filled with all kinds of snacks and homemade food, along with fresh baked cookies and bread.  She was also thoughtful enough to put in a list of all the important phone numbers including hers and all the other neighbors. She tied together in a bow, take-out menu's from all the local restaurants and coupons! She also tucked into the basket a small photo album….so we could make our own memories as we went along.  I never forgot that or her generosity. The women of Tall Oaks Drive became my BFF's quickly.  Over the twenty years we lived there we all watched over each others children, car-pooled and threw great parties! We coffee-clutched, shopped and even bowled together.  It was a wonderful time in my life and I will never forget any of them.
And because of that kindness that Joanne bestowed, I have always done that with new neighbors and old friends.  There is nothing like a hand-made gift basket. And your imagination can run the gambit when putting it together.  These gifts test the limits of your own creativity because you add your own style.  A gift that will always be remembered……Most gift baskets will take less than thirty minutes to put together…..less time than it takes to get in your car and go shopping at the mall…
I give them as Shower gifts, house-warming and birthday gifts, Christmas, Mothers Day and even the men are getting them! They are so easy…just fill with tools and a picture of something to build! Children love them too! Fill with paints, birdhouses and glitter….or dinosaurs and Spiderman……
When I go to the orchards or to the local farm for produce I bring my big basket! Fill it and wash everything on the deck, then it sits on the kitchen table…..Did I mention I love baskets?……..:)
I make a list of "Gift Baskets and/or Food Baskets" I plan to make over the next several months and what kind.  Then I keep the list in my iPhone and when I go shopping I pick up a few things that catch my eye.  Garden stores, HomeGoods & Marshall's, etc….
So here is a list of what I always have on hand or at least keep my eye out for….
Baskets….all shapes and sizes (Shop the thrift stores, yard sales, Michaels, roadside stands and even local farms…sometimes they throw away berry baskets….. you can wash them and then leave in the sun to dry…..My husband has made me a few from old palates he has come across.

Ribbons, Raffia, clear plastic wrap, gift tags, etc…..

I always look at the sale aisle and clearance shelves for discounted ribbons and items I might be able to use…..I even look for boxes of  notecards with matching shopping lists and or journals. 

Jellies, Condiments, wines, dressings…..

Food baskets are great for the new house or apartment, showers, so when I see gourmet items at TJ Maxx and Williams Sonoma on sale I stock up! The wine shop always has sales on new wines, so for under ten dollars you can get a nice bottle of Merlot or Cabernet and build your basket around that.  For someone who has just built a new bar in their home do a basket with glasses, wines and a bottle of good scotch, stirrers and a mixology book to start their bar off.

Antique linens, plates & Tea sets……

Whenever I see old linens (My weakness!) at yard sales I always think "Who would appreciate that?" If I think of someone then I'll buy it and put together an Antique Basket and fill it with a tea pot, matching dessert plates and napkins.  Good Tea and a gourmet mix for scones or orange biscuits and a recipe….
Some idea's for your Gift Baskets…..
Recycle a Wine Bottle filled with Vinegar you infuse yourself….

fill the bottles with wine vinegar, spices, and herbs to create a homemade herbed vinegar.  To make it even more personal, use unique bottle corks.  Either hand made or purchased.

What you need:

High-quality red or white wine vinegar
Handful of fresh herbs (do not chop), such as basil, sage, or tarragon
2 Tablespoons spices, such as peppercorns or whole cloves

How to make it:

Wash empty wine bottle in warm, soapy water and rinse thoroughly.  Leave the label on if it appeals to you; for an interesting mock-aged effect, soak off half the label.  Rinse the herbs well in cold water and pat dry.  Place spices in the bottle, then herb sprigs.  Pour in vinegar to fill bottle and seal or cover.  Let the mixture steep for 2 weeks to allow the flavor to permeate the vinegar.  A tightly sealed bottle of vinegar stored in a cool, dark place will keep indefinitely.  Once opened, the vinegar stays at its most flavorful for 2 t0 3 months.
Instead of giving flowers to a friend, consider a window box filled with fragrant herbs. This would be a welcomed gift for an apartment dweller or as a starter garden for a new home owner. As a home gardener, I love having fresh herbs at my finger tips….and did you know that many herbs actually grow better in containers than in a garden? Basil, Sage, Parsley, chives, and Rosemary will do well in a windowsill with at least six hours of sunlight a day.
for a nice touch, pack bottles of dried herbs, such as thyme, dill, star anise, and coriander and pack them at each end of your window box. It will make the kitchen smell wonderful….

What you need:
2 to 3 herb plants
2 1/4 in. terra-cotta pots (one for each plant)
Potting soil
4 to 6 selections of fresh-dried herbs
4 to 6 ounce bottles
16 to 36 in. window box (wood, pottery or tin)
6 packets of herb seeds
Rope twine, fabric ribbon, or raffia
Note cards and/or labels (optional)

How to make it:

Transplant herb plants into terra-cotta pots.  Fill the glass bottles with the dried herbs and spices, leaving a 1/4-inch space at the tops.  Seal with corks or stoppers.  Bundle seed packets in groups of two or three and tie each with twine or raffia.  Place potted herb plants in the center of the box.

Corn Bread in a flowerpot….."Indian legend says to plant corn when the moon is full. The moon's gravitational pull will make the corn grow tall and sweet…."
This recipe will make four flowerpot breads to tuck into a country basket….add a homemade jelly and sweet butter and you will never be forgotten!
What you need:
2 packages of corn bread mix, plus additional ingredients as specified in package directions
4 tablespoons vegetable oil
four 2 1/4-inch terra-cotta pots w/saucers – NEW- and scrub them clean
twig or country basket
raffia
dried flowers, fresh herb sprigs, or seed packet
How to make it:
Corn Bread – Submerge terra-cotta pots and saucers in water, until they are wet inside and out. Pour 1 tablespoon of vegetable oil in each of the pots and slowly turn the pot so the entire inside is well-coated.  Cut a piece of parchment paper and place inside the pot to cover the hole in the bottom.  Place pots on a baking sheet.  Prepare the cornbread per the instructions on the package, fill the pots two-thirds full and bake until the tops are golden brown.  About 15 to 20 minutes.  Cool on wire racks.  Each package should make about 2 flowerpot breads.
How to wrap it:
Once cooled, place the saucer lightly on top of the planter as a lid.  Tie up with raffia in a cross mode to keep the lid on.  Nestle each pot in your basket, and add your jellies and/or jam.

This is a great idea for the kids to do and receive!
Did you know…..that America added the word "Cookie" to its vocabulary in the early 1700s…..

What you need:


NEW gallon-sized pain cans (Hardware or home improvement stores)
Paper confetti, tissue paper, or cellophane streamers
Sugar Cookies (Home-made or bakery-bought)
Toppings such as sprinkles, sugar icing
Decorative icing in tubes
Various icing tips
Pint-sized paint cans (optinal)
wide ribbon
How to package it:
Fill the large gallon-sized can with paper confetti, tissue paper, etc.  Place cookies in the can.(I usually place the cookies in a cellophane bag and tie with ribbon).  Lay decorating supplies in gently, placing items around (not on) the cookies.  Or fill the pint-sized cans with tubes of frosting, sprinkles and place these inside the can.  Wrap the wide ribbon around the can and make a bow for the front.
Aren't baskets wonderful?  think I'll go find some of mine, brush them off and fill them with goodies! There is always someone special to give it to…..
Country Hugs,
Adapted from "Food Gifts" by Martha Gill
We are linking up this week to:
http://www.uncommondesignsonline.com/14-sweet-treats-monday-funday/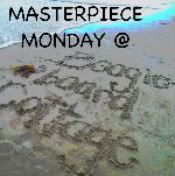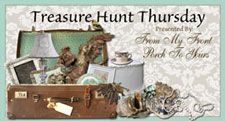 <a
href="http://www.ishouldbemoppingthefloor.com//">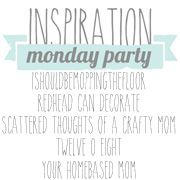 height="180″/>