Now that Spring has arrived and is not leaving the mountain, I'm gearing up for my deck gardening to start.  I will be planting some Perennials in the beds around the house but my deck will hold some of my favorite flowers and of course my herbs. I'm lucky that my deck is right off my breakfast room so its far more convenient to grab some Rosemary or Basil just steps from the stove rather than going down the steps into a garden. Besides the wildlife would be enjoying the fruits of my labor too easily!
The Daffodils are finally in bloom and I'm waiting for the Tulips to bloom….

Last year I purchased these two planters from Amazon that will sit on top of the deck railing.


I'm thinking of ordering two additional planters…I will plant Petunia's with Vinca draping down the sides in two of them and the remaining planters will get marigolds, other annuals and herbs. Isn't this beautiful?


Then I will plant my big pots with lots of Parsley, Basil, thyme, Oregano…. etc.
Best Herbs for Container Gardens
Basil:


 A beloved Italian annual herb, grows best in full sun and fertile, moist soil. Basil dishes up classic Italian flavor in eye-catching bushy plants suitable for garden beds or containers. Grow this tasty beauty in a sunny spot, and you'll reap rewards of flavorful foliage in shades of green, purple, or bronze. Basil lends a distinctive taste to salads, pizza, and pasta dishes. Use small leaves whole; chop larger leaves. Add leaves to dishes just before serving for greatest taste and aroma. Basil plants are exceedingly sensitive to cold; Once the root system is established, about six weeks after sowing, it tolerates short periods of drought. Basil is a good companion with parsley, thyme, and other herbs when grown in a pot that holds at least 5 gallons of soil. Rather than wait for seedlings, you all know how impatient I am, I buy several plants from the garden center that are already growing.
Rosemary:


Known as a symbol of remembrance and friendship, rosemary fills a garden with aroma, flavor, and activity — busily pollinating bees love the blooms. This herb comes in various forms, from stiff and upright, ideal for a hedge planting, to mounded and spreading, perfect for scrambling along a slope or wall. The secret to beautiful rosemary is to give plants a hot, dry footing. Grow plants in well-drained soil or a raised bed and surround them gravel mulch for best results. Rosemary thrives in containers, too.
a Mediterranean evergreen shrub, likes hot, dry, sunny spots. Quick-draining soil is the key to good growth. It's drought-tolerant. Keep the soil moist but never wet when grown indoors. Zones 7-10.
Thyme:


This sun-loving, drought-tolerant herb carpets hillsides in Greece, thriving in well-drained soil. Drought conditions concentrate the aromatic oils in thyme, so the drier your growing conditions, the better. In your garden, tucking plants into raised beds or mulching them with gravel will give thyme the conditions that cause it to thrive and be flavorful.
The flowers beckon honeybees, so add thyme near vegetable gardens to assure an ample supply of pollinators. Shear plants back after bloom, cutting off about a third of stems. With dainty proportions, thyme suits containers or the tight growing quarters between stepping stones.
Thyme introduces a savory flavor to dishes, such as roasted vegetables, soups, and sauces. It is also a key ingredient in bouquet garni, fines herbes, and herbes de Provence. Use thyme to enhance poultry, beef, pork, or seafood. This herb also adds a kick to cheese and egg creations. Thyme's oils take time to be infused into dishes; add thyme early in the cooking process to release the greatest flavor.
Comes in many varieties, Thyme does not tolerate wet soil, so avoid over-watering. Zones 4-10.
Chives:


Are grassy, clump-forming perennials with hollow leaves. Essentially tiny onions, chives are grown for their leaves and blooms rather than their bulbs. Their fragrant pink-purple spring flowers are also edible. Plant them in well-drained potting soil that's rich with organic matter. They can tolerate light shade but do best in full sun. Chives grow well in container gardens. Because they're hardy in Zones 3-10, you can leave them outdoors year-round.
Tarragon:


French tarragon creates a shrubby presence. Combining fine texture with wonderful green-to-gray foliage. Leaves dish up a sweet anise flavor used to create traditional Bearnaise sauce and the fines herbes blend vital to French cooking.  This  is a classic French herb used to season fish and many other foods. Its name is derived from the French word for little dragon, referring to the herb's bold flavor.  In rich soil, plants practically jump out of the ground, thriving with little care. For best growth, remove flowering stems. With a sunny window and rich soil, you can raise French tarragon indoors. If light isn't strong enough, stems will likely sprawl and leaf flavor will diminish, but you'll still be able to savor the licorice taste. In the garden, pair French tarragon with bearded iris, burgundy-toned shrubs, or lilies for an eye-pleasing scene. I have planted my Tarragon along with Basil.  In coldest zones, cut plants back in fall and mulch after the ground freezes. Plant it in full sun and well-drained potting mix. It tolerates drought well and should not be overwatered. Tarragon grows in partial shade but does best in full sun. Zones 5-9
 Lavender:


Lavender fills the early-summer garden with sensory delights: beautiful purple-tone blooms atop foliage that oozes fragrance on a sunny afternoon. Every part of the plant is infused with aromatic oil, making this a choice herb to place along pathways or near outdoor seating areas so you can savor the fragrance.  I have two large pots that are actually pedastils, right outside my sliding doors.  Lavender varieties abound: The darker the flower, the more intense the aroma — and the flavor in cooking.  Drought-, heat-, and wind-tolerant, lavender doesn't like poor drainage, waterlogged soil, or high humidity.  Keep it on the dry side and avoid fertilizer. Lavender hardiness depends on the variety; the toughest are hardy in Zones 5-10.
Here are the planters from Lowe's that will be home to my Lavender and several other herbs…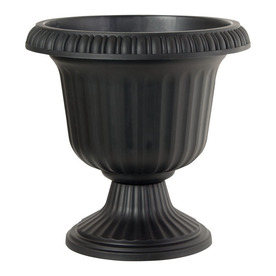 Oregano:


Savor true Italian flavor with garden-fresh oregano. This sprawling herb pumps up the taste in tomato sauces, pizza, and Mediterranean cuisine. An easy-growing perennial, oregano thrives in planting beds or containers. Plant it in a pot with rosemary, sage, and thyme for a flavorful quartet you can place near the kitchen door, handy for snipping and sprinkling into dishes. In the ground, plants will flower and set seed, which shortens the harvest season. Pinch flowers from stems to keep plants in top snipping form.
I am also redoing the front porch, the two urns I have now will relocate to the deck and the new urns will have a mixture of geraniums and vinca…..from Amazon…this is 28″ tall which is what I want for the front of the house….
Well, as you can see I'll have a busy weekend coming up! Hope Spring has settled in your back yard too!
Country Hugs,
Herb info & photo's can be found at BHG.COM…….My favorite "go to" site!…….