A former neighbor from Pike County, stopped by on her way to visit her children in Ohio,  the house was spotless, furniture glistening, a wonderful lunch was beautifully set on the kitchen table and a fire roaring in the family room…..and I was not wearing sweat pants! even the dogs were well behaved….She came barreling through the front door with such fanfare that I thought HGTV was behind her telling me  I had won the 2015 Dream Home !
…..I didn't…….
…………sigh………
After I realized she was alone, I welcomed her in and never got another word in edge-wise…….for the entire afternoon…….she commented on everything……the new paint colors I chose, the furniture, the drapes, the ironstone she was about to eat from, the fact that I still haven't found sconces for over the mantle, the black & white theme, etc..etc……even the hand-made lavender soaps that are in the guest bathroom. Her comment was "It's all Sooo, quaint"! "I just love country homes!"
…..hmmmm……..Country home? As in contrast to a City home?
I took it all in stride, "I love my home, and everything in it." I said.  Accompanied with all the country charm I could muster without hitting her…..
……………….Until……..I heard…….."Oh, Lois"………………….and here it comes……….wait for it…….
"Traditional Home Magazine would never show artificial flower arrangements in their homes….."
with that she went on and on about her upcoming vacation and her new job….I think.  I wasn't really paying attention to her from that point on and thankfully she was on her way soon after…….as I sat and contemplated her statement I thought…artificial? why not!
I realized that in order to have fresh cut flower arrangements in most of my rooms, where "Faux-Fresh" (My new concept word) flowers now stand, would cost me about $40 to $50 dollars per week! ………Not going to happen!
My argument for my "Forever Arrangements" stands on these points:
They don't die! Major plus for me…..
Not having to replace them – so cost effective…
No changing of water
Keeps their "Faux-Fresh" freshness!
And I can change the mood of the room at will!
It's time we embraced the "Faux-Fresh Flower" aisle at Michael's and Joanne's, and lets not forget HomeGoods! We are so fast to put dried twigs made into a wreath in every square inch of our homes, garnished with "Faux-Fresh" berries and fruit! But bring out the forever daffodils and our homes become blemished? Well, I'm starting a crusade for the Faux arrangements……I'm going to put them in every room! If you agree send me your photo's of your "Faux-Fresh" idea's and I'll post them! Together we can end this Faux Bullying!
I decided to share some of my "Faux-Fresh" arrangements with you….
And let's not forget our potted plants for adding some "Realism" to a windowsill! here is my Shamrock plant……which she thought was "cute"….
Now, so determined am I to fight for the Faux….I found some beautiful arrangements already gracing the internet! If its good enough for… Pottery Barn…..
And what's wrong with my Black & White?
So there you have it, my new Soap Box argument………..And if for no other reason – when I walk into the dining room and see purple lilacs on my table and a mountain of snow outside the window……it makes me smile! and that is Soooo worth it!
Country Hugs,
Linking up at the following: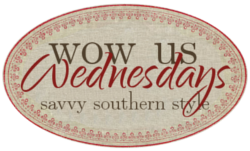 www.posedperfection.com