Well, it's that time of year when everyone starts planning that awesome, fun filled summer vacation! Pack up the jeep, load the cooler, find all thirty-six maps you have collected all year long, along with every review you could encounter online, pack enough clothes to get you to Mars and back again without a Laundromat, along with a medicine case that would rival the ER team! Do we have enough sunscreen, lotion and hair gel? Make sure you downloaded the language translation program on your I-phone and buy all six pairs of flip-flops you found at the mall – you can never have too many flip-flops….Check your passports, credit cards and start adjusting to the time change……refresh your knowledge on international laws and where the American Embassy is located……If necessary hire a local guide to ensure a memorable experience!
Are we ready?……..
All set?
Where are we going????????
Yup! You got it!
The Jersey Shore!
Ok, stop laughing…no really, you can stop now! Oh, all right I guess it is a bit funny, especially when we lived on the shore and raised our three girls there…..but we left New Jersey and acclimated ourselves to country living eleven years ago! "The Captain" and I are not used to crowds and traffic…..to us if we are not able to do seventy-five miles an hour on the Turnpike then we're stuck in traffic! If there are seven people on line in front of you at the grocery store everyone asks one of two questions: "What are they giving away?" or "Is a storm coming?"……Any congestion we see is usually caused by Mr. Millers' cows that got out along with the two goats…….the Guinea Hens come every morning to give us the local gossip so no need to watch Good Morning America.  And you find out everything you need to know about what's happening on the mountain just by strolling past your neighbors barn and giving a hand with the milking – cows that is!
But, every now and then, you get a little twinge, a bit melancholy for the sounds and smells of the surf.  For a table full of steamed crabs and Jersey corn….sorry Pennsylvania – nothing beats Jersey corn! The feel of hot sand until you push your toes in a few inches and then the coolness feels like a foot massage.  Falling asleep at night to the sound of the  crashing surf and waking to a sunrise coming up over Cape May……Yup! My most favorite place – Sunset Beach in Cape May…… During the summer locals gather at Sunset Beach every evening at dusk for a flag-lowering ceremony accompanied by a Kate Smith recording of "God Bless America."
So come on, I'm going to share with you our favorite sights and sounds of vacationing at  Cape May….for those of you who have never been – this is a must on your Bucket List!
www.iloveinns.com
Here are some of the tributes written about Cape May, N.J. :
"the Grande Old Dame of the Eastern Shore, Cape May……She is the aristocrat of beaches with the prices and lineage to prove it. When nearby Philadelphia was the capital of the Colonial states, several of the Founding Fathers came to Cape May to let down their wigs. Later the fashionable members of New York society flocked to the area, but the flash point (literally speaking) for Cape May didn't come until 1878, when a fire devastated most of the town.
Out of the ashes arose an ornate Victorian fantasy world of elegant seaside hotels and gingerbread mansions that became the sandbox for gilded society. Wallis Simpson, Duchess of Windsor, held her debutante party in Cape May, and so many presidents have vacationed here that several hotels still vie for the title of "The Summer White House."
If earlier straw-hatted glitteratti were to return to Cape May today, they would instantly recognize many of their old haunts, thanks to the town's status as a National Historic Landmark and its preservation-mad citizens. The locals are passionate about their role as cultural custodians, and it shows. The sand is always raked and the area's signature Victorian trim, which adorns the town like cobwebs, is always fresh with paint. But Cape May is not a place full of crusty Miss Havishams. It is peppered with the same warm, easy-going personalities typical to beach Meccas around the world – it's just that the tune they march to is more Gilbert & Sullivan than Jimmy Buffet…."
My favorite restaurant is "The Lobster House" on The Wharf……moored along side the restaurant is the 130 ft. Grand Banks sailing vessel and outdoor cocktail lounge, The Schooner American. A fixture at The Lobster House since 1965.  You can even moor your boat along side, free of charge, and have lunch onboard.  Sunsets along with cocktails while watching the yachts sail by is pure heaven!
Another favorite – The Washington Inn is nestled on tree-lined Washington Street in the heart of the Cape May Historic District. Built in 1840 as a Plantation home.  This restaurant is rated one of the top 100 restaurants in the country……The Washington Inn Crab-cakes are the best!
And you must visit the Cape May Lighthouse……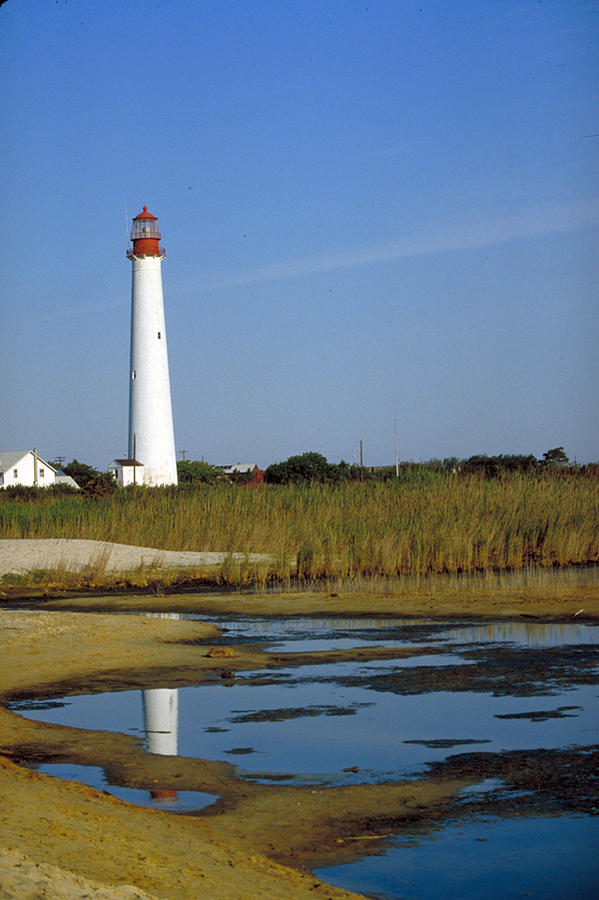 The present tower, which is the third documented lighthouse at the southern tip of New Jersey, has always been an attention-getting landmark as well as an aid-to-navigation for mariners. It was built in 1859. And there is the Aviation Museum at the airport and the iconic World War II Lookout Tower……
Fire Control Tower No. 23 is New Jersey's last remaining restorable World War II tower, part of the immense Harbor Defense of the Delaware system known as Fort Miles, playing a major part in coastal defenses.  Built in 1942, the tower was one of 15 towers that helped aim batteries of coastal artillery, stretching from North Wildwood, N.J. to Bethany Beach, DE.
If your vacationing with the kids have no fear! there is so much to see and do with them in mind…..
The Boardwalk
The wooden boardwalk that separates the beach from Ocean Avenue is a carnival of old-fashioned arcade games, vintage photo booths and cotton candy stands. This is probably one of the few boardwalks on the Atlantic where kids can be let loose with little worry of them returning with a tattoo.
Historic Cold Springs Village
 This "mini-Williamsburg" is but five minutes from Cape May by ye olde automobile. The people of the Village are all in costume and everything is strictly 19th century. Blacksmiths, potters, milkmaids and other sturdy country folk tell tales of what New Jersey was like before the Turnpike.
The Mad Batter Restaurant
A party atmosphere permeates this restaurant right to the yellow-striped veranda that spills over Jackson Street. The Mad Batter is a tolerant and entertaining place to bring the kids to run about (sometimes in the company of the owners' children)!
Here are some photo's to get you moving!
Whale Watching…..
Strolling back in time…
Sunsets….
Dunes to explore…
Stone jetty's…
Shopping!
The architecture…..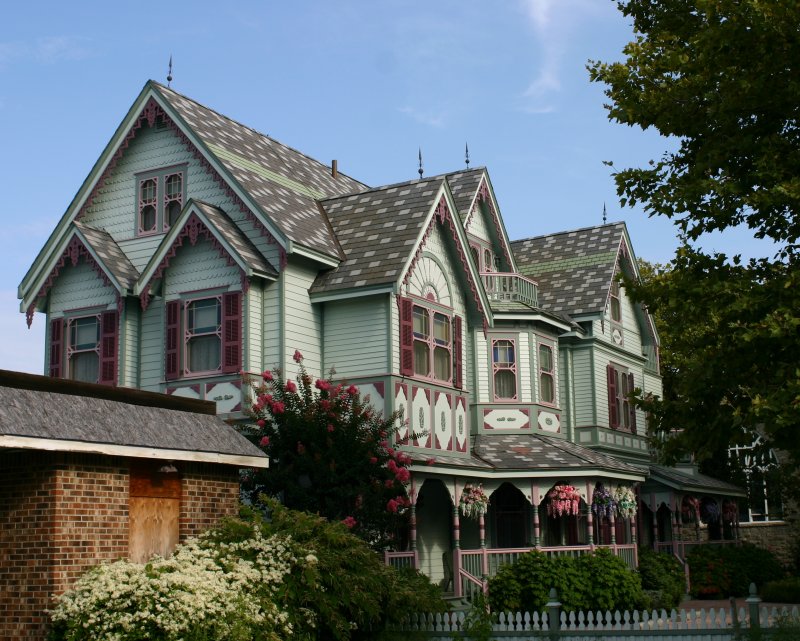 The boats…
The fishing….
Cape May Cove to stroll hand in hand…
Where we stay…
And finally  …….  The View……
Cape May Bound…..right after Labor Day…….everyone has left, kids are back in school and Al and I can have the whole beach to ourselves…..Life is good…..I think I'm a bit "Home Sick"…….
Happy Monday!
Link-ups!