How many times have you seen a beautiful, lonesome teacup and saucer at a tag sale and thought "Oh, if there were only a few more of you!" and walk away… I have….but not anymore! I found, while surfing, LOL…. some wonderful and creative things to do with teacups! The next time I see a mismatched cup and saucer or just a lonesome pair I am going to scoop them up and get creative!
I'll be "flea marketing" this Friday…wish me luck!
I think this would be lovely on an Easter table….don't you?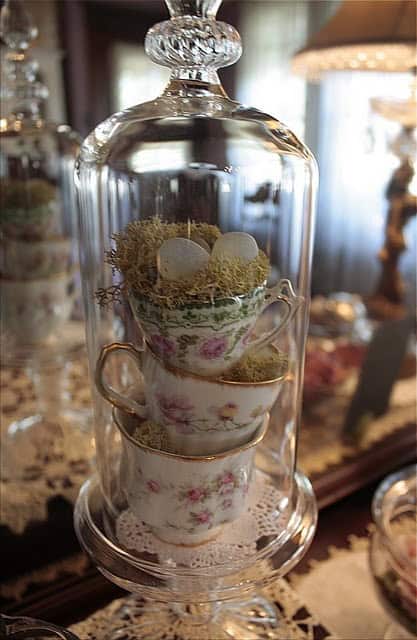 Is this not adorable?
I LOVE this! I would think you will need a good drill made for glass and maybe an old tier server…..just replace with a cup and saucer and a salad plate or a dinner plate on the bottom and build several tiers…..what a great way to use odd pieces of china…
What a cute addition to a country kitchen…
A little girls room?
A more sleek look….I love this…you know me with my black / white & grey!
These are two of my favorites…
I saw a crystal chandy at a local consignment shop and wonder if its still there, this would be beautiful!
And this is so over the top!
This is where I found all these lovely idea's ….here…..
I love to go back to my old "Tried & True" sites like Countryliving.com, for idea's on new projects…….I am so making these!
In case you still can't think of anything to do with a teacup you could always try this!
So what do you think? please let me know what idea's for teacups you come up with and I'll post it…….
Have a wonderful day!
L.L.
Some images used on Pineridgehills.com are taken from the web and believed to be in the public domain. I do my very best to track down the original owner of the photo and/or website and will always give them full credit.  Which is the right thing to do.