We are finally getting there! the office is livable again.  My husband, the saint, has been busy.  I need a few small details and we can cross this off our "Honey-Do List"….It turned out better than I had hoped.  I love the colors and now just need drapes and a few pictures on the walls.  My intention is to bring my sewing room downstairs.  the light is so much nicer and the view of the front road and forest across the street is beautiful. I have an old oak cabinet that I am going to paint white and add small chunky legs to it.  It will go in the corner and hold my most of my sewing projects.  The crown molding goes up this week along with a rod across the bay window.  This summer the rug will come up and the maple floor will go down.
But until then I am going to enjoy working in my office again…..My husband will use it as an office more than I will.  When I am blogging I do so at the kitchen table so I have a panoramic view off the deck and up the ridge…..talk about motivation! I watch the birds visit and the hens….Bradford the bear has been sniffing around but hasn't done any damage – yet!  The deer come every morning and at dusk….there is also a family of wild turkeys that come by, the babies are so cute!
Now you see why sometimes I get so distracted and don't blog! But I promise to be better and share so much more of what goes on here at PineRidge Hills……
But again I am getting off track! I wanted to share some before and after photo's so you too can appreciate my delight in getting back to work!
I've taken some of mySanta collection…see you guys at Christmas! I'm displaying my WillieRaye's and a few pieces I love too much to put away….this was a hard decision…..I've also thinned out my book collection….What do you think?
And now:: Ta-Da!
The built-in corner desk is still in a bit of disarray but by tomorrow it will also be clear and then let the creative juices flow Lol!
soon we will be starting the living room and kitchen/breakfast room….the master bedroom is last maybe in the fall…..
Its amazing what a little paint can do for a girl!
Happy Tuesday!
I'll be linking up at the following parties! Please visit!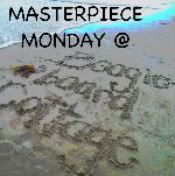 Silver Pennies for Silver Pennies Sunday,Twigg Studios for Sunday Showoff Party