Easter in the country……..I love it!
Is it really different? well, I think so…I was fortunate that although I grew up in Brooklyn, New York we had a "Country House" on the Delaware River in Pike County, Pennsylvania.  We spent just about every weekend and all our holidays and summers up on the river.  My dad and my uncle Jim built our little house and growing up there was the beginning of my love of all things "Country"…..especially holidays!
Easter was usually bitter cold, with some snow still on the mountain.  We had a gas heater and a pot belly stove that was packed at night and it helped take the edge off.  Warm flannel PJ's and heavy hand-made quilts and wool socks also lent a hand to keeping warm.  My collie, "Gay" was probably the warmest blanket I had!
On Easter morning, I would wake up and put my new Easter outfit on, getting dressed by the stove….and walk up to my aunt Norma's house and we would file into the station wagon and head into town to attend Mass.  My mom would be getting the kitchen ready for all the cooking for our family dinner.  Depending on how many members of the family were already up on the river would determine how the table was set…..there were many times on holidays that the old picnic tables would come into the large country kitchen and my mom would set the table with stoneware and old country crocks…..If there were any crocus' that had popped up thru the snow my mom would dig them up roots and all and put them into some old pots and line the table.  At the end of the day she would lovingly put them back in there little spot in her garden.  they never failed her!
All my aunts would contribute to the dinner…..  If it was a mild Easter, although very rare, we would have an Easter Egg hunt…we were still finding eggs on Memorial Day! LOL!
All our decorations for all of our holidays were real….there were no fake branches or nests, our daffodils were from my mom's garden as was the forsythia and lilacs.  Milk was fresh from the Millers' farm down the road, and the apples were always picked an hour before they were part of my aunt's pie….every Saturday night my dad and my uncle would start a campfire, just to sit and chat about what they accomplished during the day.  Within a few moments, my aunt Norma and Uncle Joe would walk down the road just to sit a spell.  within an hour the entire family, all twenty of us, along with what ever weekend company came to visit, were around the fire, dad would be making "Mickey's" – campfire potatoes and corn on the cob soaked in milk, husk and all, tucked under the hot ambers of the fire.  Each of my aunts would run home and make something to nosh on while my uncle would tune up his guitar and banjo…every campfire was magical and memorable and enough food on the tables to feed an army.  The kids would be playing kick the can for hours! Folks used to ask us how can you play that game in the dark? we would tell them – when you know the woods as well as we did you could play blindfolded! Ah, good ol' days!
But, I degress, back to Easter – country style! Below are the finds I made when I went hunting for
Country
on the net! (click on title for original sites)  
This picture reminds me of my mom's kitchen window overlooking the river…..her crock was always filled with wild flowers and the sill would be filled with old antique bottles that we would find when we went digging in the woods…. 
This is so simple yet so lovely……
I LOVE this table!! (originally from Victoria Magazine)
Perfect basket…..I may do this as part of my centerpiece….
I remember my mom finding an old rusted watering can in the woods and painted roses on it, and then placed it on the front porch with Black-eyed Susans' and baby's breath ….(found on pinterest)
I love the idea of rustic wood as center pieces….filled with daffodils or tulips! hmmmm, another thought for my Easter table…..
I love these eggs! Great idea for the kids to make……busy fingers!
And what a great idea……I would love to use Demitasse cups for this and then hang them on a wreath…..next time I'm at a yard  sale I'm going to look for these……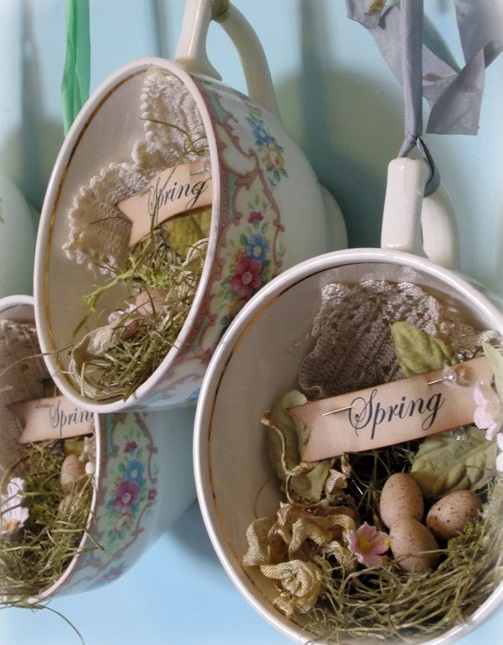 Love this ….such beautiful flowers…..
What's that in the cupboard? ohhhhhh,………
Well, I've been inspired……how about you? any idea's? please share….would love to hear from you……
PS – I realize that some of the beautiful photo's above were not properly acknowledged…sometimes I can't find the original owner…so I have taken some off and replaced with those that I can give credit to…its only fair that these original photographers be smiled upon! Thanks to all of you who give us such wonderful photo's to make us remember and smile….
Lois
linking up at: