Have I ever told you the story of John Henry of Tenbury Square and how he became part of our family? No? Well then, what better way to spend your Friday morning than by brewing yourself a cup of  Earl Grey, lather your scone with apple butter and snuggle into the warm armchair next to the roaring fire….did you stoke the hot ambers and place another log on? we'll wait….ok? settled in? wonderful……let's begin:
Last year while at Homegoods, no introduction needed, I found this adorable little bird, it had a mate, but when I picked it up I realized it was broken.  My heart sank, I asked the manager if there were anymore – he said he didn't think so, what ever was out on the shelves, too busy to look in the back, etc..etc.. sigh…..the writer in me thought how sad…the bird is all alone now, and so I congered up this entire story in my head as to why I should by it and bring him home…bottom line – I thought he was cute, but the pair would have been far cuter!
Got him home and he went on a shelf somewhere…..While decorating for the holidays I thought I needed alittle something to go on the shelf for the blog photoshoot…oh, the little bird! perfect! Now where did I stick him? Oh, I remember! in the dining room hutch…grabbed him, put him on the mantle….took the photo and moved on to the next project….and there he remained on the mantle amongst over powering Santa's and garland….unnoticed, and lifeless…..then the grandchildren came over….
My granddaughter said Oh, grandma where did you get the little bird, he is cute! as I started the story about his mate being broken and how the store manager dismissed my inquiry about another one, and how I thought he would rather be home with us….I realized she had lost interest along with her brother and her cousin, in a Homegoods ceramic dust collector, that wasn't as nearly as interesting as their I-pods were and then suddenly it came to me and  John Henry was born!
I gathered the grandkids and with hot chocolate and warm cookies in hand, we sat in front of the fireplace and I asked if they wanted to know the truth about my little bird "John Henry" but first, could they keep the family secret?  suddenly I had an audience.
The children already knew of Tenbury Wells, as that is where my mother's maternal ancestors are  from.  A small hamlet in England near the border of Wales.  Now I had these three pairs of wide eyes starring at me as if I were about to tell them about secrets and buried treasure! well maybe I was…..I wasn't quite sure as I hadn't gotten that far yet in my head!
I learned that children's imaginations are doors just waiting to be opened, you just need the right key!
And so the story began in England around 1880 when their Great-Great-Great Grandparents decided to make the long journey from England to America to start a new life…..but they could only take a few possessions with them….John Henry was one of them….John henry was a family heirloom that had been passed down from, well as far back as we could go in the family tree.  Great Grandmother (x 4) Elizabeth Anne was born in 1761 and she was given the bird as a Christmas present from her mother when she celebrated her first Christmas as a young bride.
The stories continued through modern times and how my grandmother Ann Elizabeth, the last daughter to get married, was given so many family heirlooms to pass down to her grandchildren…..including this very special little bird.
John Henry, as the story goes…(snicker…snicker) traveled through England, went into battle and even met the Queen of England, supposedly he knew the secrets of the Knights Templar and had visited Oak Island and may very well know where the treasure is! (I know, I know but I got caught up in the moment!)
He then said his farewells to the  English moors and crossed the great Atlantic Ocean with his  young family to start a new life, and promised the Elders he would look after the young family…..and now he lives at Pineridge Hills and stands majestically on our mantle and watches over all of us – until he goes to live with the next generation…..
Of course the questions started with my grandsons…..what wars? did he drive a tank? where did he keep his I-phone and where is his passport? Why does he look so new? Then my granddaughter….what was the Queen wearing? did she invite him to any parties? did he get married? and finally the all-important question: Who gets him when you die?
My husband, the sarcastic one, walked through the family room at that point, and without hesitation said "Good luck with that one, Grandma!" .
With that the interest in John Henry waned, requests for more cookies and can we go play in the snow, what's for supper and how many rabbits live out back…..became the main conversations……at the end of the day, everyone was getting ready to go home, the dogs were hugged twenty-six times, grandpa promised to build a snow fort – next time, twelve pounds of chocolate cookies were wrapped up, and goodie bags for the ride home (They lives four miles from us)….then as they were heading for the door, my granddaughter yelled wait! we forgot! the three of them ran back to the family room, up to the mantle and said
"Bye, John Henry…we'll be back soon for more stories! Take care of Grandma & Grandpa"……
As I sighed….I thought….It's all about finding the right key!
St. Mary's Church, Tenbury Wells, Worcestershire, England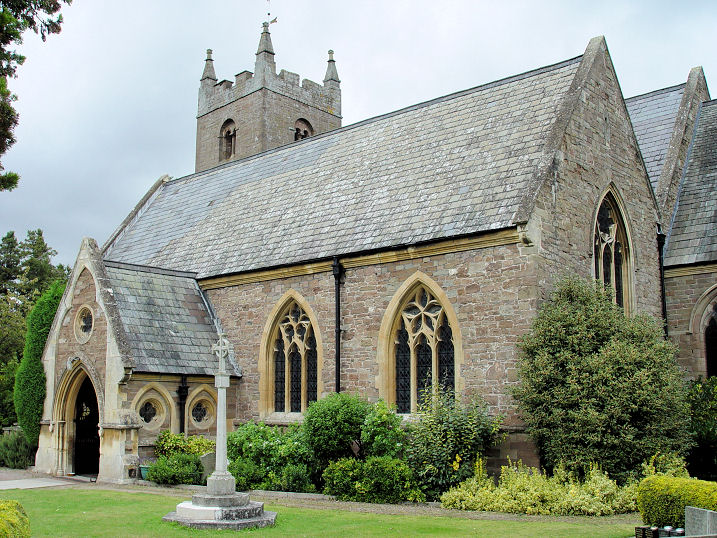 "John Henry"