If you are entertaining this New Year's Eve….what will you serve your guests? I have a few things in mind……..but for some, tradition will decide the evening's menu…..and where you hail from!
Best 5 Traditional New Years Day Meal
New Year is a new beginning in many ways, and everyone wants the coming year to be prosperous and lucky for them. And what could be a better way of welcoming New Year with food products that bring in fortunes, therefore presenting you a quick list of the Best 5 Traditional New Years Day Meals.
PORK
It is a tradition in various cultures and countries around the world to eat Pork on the New Year's. The idea behind this is that since the pig is the only animal that pushes itself forward while eating hence it symbolizes progress. In Austria people decorate the dining table with miniature pigs. Different dishes and kinds of pork are made in different parts, for e.g. Roast suckling pig is served in Cuba, Spain, Portugal, and Hungry while pigs feet are eaten in Sweden and Germany. Pork is also consumed in Italy and the United States, because, due to its rich fat content, it is believed to signify wealth and prosperity.
FISH
Fish is a traditional choice in many parts of the world. The reason for this could be that it is easy to preserve and transport. Japanese eat herring roe for fertility and shrimps for a long life. Cod is a popular choice at many places including Italy, Denmark, North Africa and the Caribbean. Herring is considered auspicious in Poland and Germany.
CAKE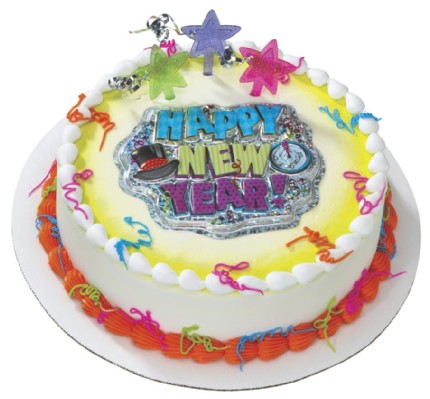 Where there is celebration, there will be cake. Cakes are eaten all over the world from Christmas to the New Year's, the most preferred shape being round. In certain traditions a silver coin or trinket is baked inside the cake. It is believed that who ever gets the piece of cake with the silver coin is the luckiest and will have lots of good luck throughout the year.
 GREENS
Greens such as collards, cabbage and kale are cooked and consumed at lot of places in the world. It is due to the reason that the green leaves resemble paper money and is symbolic of prosperity. The more greens one eats the bigger the fortune in the coming year so is believed.
LEGUMES
Since they are coin shaped and swell on cooking, legumes are symbolic of money. These include peas, beans and lentils. In parts of the world where it is a tradition to eat legumes, it is the first day of the meal on the New Year's. Brazilians drink lentil soup, Germans partner legumes with pork and in South Americans eat Hopping John, a dish made of black eyed peas with flavoring of pork.
Read more at http://www.ifood.tv
   HOPPIN' JOHN
1 pound dried black-eyed peas
2 small smoked ham hocks or meaty ham bone
2 medium onions, divided
3 large cloves garlic, halved
1 bay leaf
1 cup long-grain white rice
1 can (10 to 14.5 ounces)  diced tomatoes with Chile peppers, juices reserved
1 medium red bell pepper, chopped
1/2 green bell pepper, chopped
3 ribs celery, chopped
1 jalapeno or Serrano pepper, minced
2 teaspoons Cajun or Creole seasoning
1/2 teaspoon dried thyme leaves
3/4 teaspoon ground cumin
3/4 teaspoon salt
4 green onions, sliced
Preparation:
In a large Dutch oven or kettle, combine the black-eyed peas, ham bone or ham hocks, and 6 cups water.  Cut 1 of the onions in half and add it to the pot along with the garlic and bay  leaf.  Bring to a boil, reduce the heat to medium-low, and simmer gently  until the beans are tender but not mushy, 2 to 2 1/2 hours.  Remove the ham bone or hocks, cut off the meat; dice and set aside. Drain the  peas and set aside.  Remove and discard the bay leaf, onion pieces, and garlic.Add 2 1/2 cups of water to the pot and bring to a boil.  Add the rice,  cover, and simmer until the rice is almost tender, about 10 to 12 minutes.
Mince the remaining onion then add to the rice along with the peas, tomatoes,  and their juices, red and green bell pepper, celery, jalapeno pepper, Creole seasoning,  thyme, cumin, and salt.  Cook until the rice is tender, 5 to 8 minutes.   Stir in the sliced green onions and the reserved diced ham. Serve with hot sauce and freshly baked cornbread.
Although I'm not from the south I do have family that was.  I remember my Uncle Bill's mom making this even though it wasn't New Year's! I think I will start a new tradition here in Pennsylvania – Hoppin john!
What's on your table this New Year's?……….